Een Apple ID is het e-mailadres (en wachtwoord) dat je gebruikt om in te loggen voor allerlei Apple-diensten. Als je geen betaalkaart wilt toevoegen aan de Apple ID volg dan de onderstaande stappen:
Een Apple ID aanmaken op uw iPhone of iPad
Je kunt een nieuwe Apple ID aanmaken wanneer jij je apparaat configureert of deze later configureren in de App Store.
Een Apple ID aanmaken wanneer jij je apparaat configureert
1. Tik op 'Wachtwoord vergeten of geen Apple ID?'.
2. Tik op 'Maak gratis Apple ID aan'.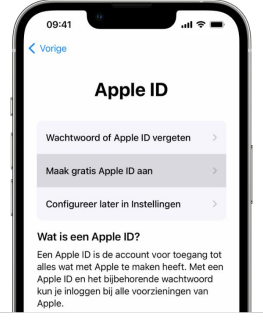 3. Selecteer je geboortedatum en voer uw naam in. Tik op 'Volgende'.
4. Tik op 'Gebruik je huidige e-mailadres'. Selecteer hier een mailadres van de
organisatie waar, bij voorkeur, meer mensen bij kunnen zoals ict@...
5.Volg de stappen op het scherm om je e-mailadres te verifiëren en een sterk
wachtwoord aan te maken. Aangezien dit apparaat door meer mensen in je
organisatie gebruikt gaat worden raden wij aan om geen inlogcode en tweefactor-authenticatie te gebruiken.
6. ZEER BELANGERIJK: Zorg dat het door jouw gekozen wachtwoord en de bijbehorende vragen en antwoorden goed bewaard worden. Appleproducten vragen na grote updates regelmatig om dit wachtwoord! Tip: het is handig deze gegevens met één of meer collega's te delen.