Please note - This feature is only available to our iConnect corporate customers. Please contact our support team to enquire about enabled this feature.
General notes
---
Your registered telephone number is stored by a service provider based in the US with full GDPR compliance through the standard contractual clauses.

All call recordings in your account are stored by IRIS Connect using AWS S3 and held within the EU.

Your registered phone ID/number will not be visible to the receiver of the call. Calls will show from +44 (0)1646 450059.
Step-by-Step Instructions
---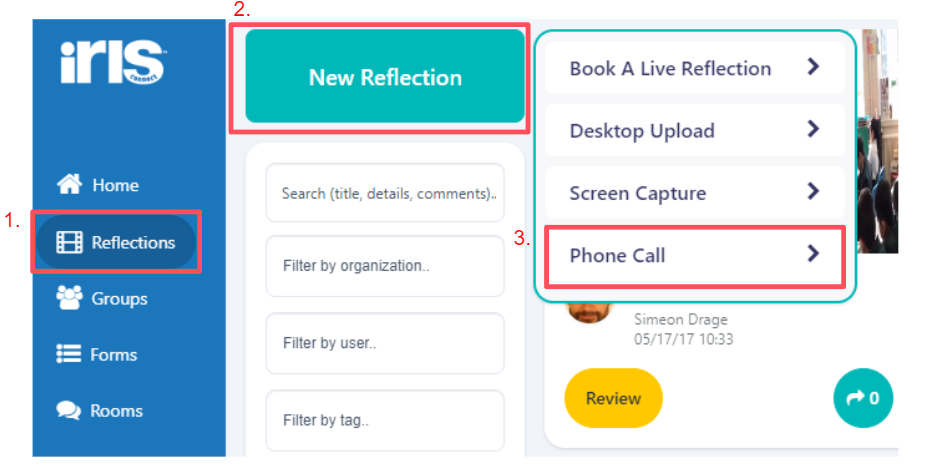 Go to your reflection library and select Phone Call.
---
Select Register new number. Enter the telephone number you would like to dial from. The international prefix is represented by the selected country's flag. Enter a relevant name for your phone number and click Submit.
---
After a short delay, you will receive a phone call to validate your phone number. Enter the code on your screen into your telephone keypad. The image to the right is an example of what you will see.
---
The call recording service will confirm whether or not your number has been successfully registered. End the call and confirm registration on your screen. Your phone number will appear under Registered phone numbers.
---
Select your number to dial from and enter the phone number you would like to call.
---
The call recording service will call both numbers to host the phone call. Both participants will answer at this point and be connected to the call.
---
Once the phone call has ended the platform will take a few minutes to process the audio file and make it available in your reflection library.