INFO: Summary
For data security and ease of recording and uploading, we always recommend using our system to capture recordings:
This is because files recorded outside of our system:
Can use unsupported file types

Make very large files due to recording in high resolution
Contents of this article:
---
Ways to Upload
---
There are two ways to upload videos that you have recorded outside of our system:
Record Apps
If you have a file on your mobile device then the easiest way to get it uploaded is using the manual upload feature on the Record app. Please refer to this article.
---
Desktop Upload
If you have the file on your computer, it will be easier to do a desktop upload. However, if the recording was made via a mobile device (tablet or phone) then we would recommend installing the Record app on your device and uploading it that way.
Desktop Uploads
---
Accepted File Types and Sizes
---
File Types
The supported formats for videos are as follows:

aac | aiff | asf | avi | flv | flv | m4v | mov | mpg | mpeg | mp4 | mkv | mp3 | mts | m4a | mpegts | matroska | ogg | ts | webm | wav | wmv | webm | 3gp

If a file is not in one of these formats it will fail to upload. If your file type is not accepted, please see the Handbrake guide for how to manual transcode it before uploading.
---
File Sizes
The maximum size for a manually uploaded video file is around 8GB but this will depend on your browser. We recommend using Chrome. If you are having upload problems the file size is likely too big, in which case use HandBrake to reduce the size.
Large files may be allowed by the browser but slow upload speeds can mean that the browser times out before the uploading completes, causing it to fail.
TIP: Upload issues for large files
To resolve any issues with wrong file size or too large files, we suggest HandBrake.
See the HandBrake guide below which explains the process.
How to do a Desktop Upload
---
Go to Reflections then click New Reflection.
Select Desktop Upload, give your Reflection a title and click Create.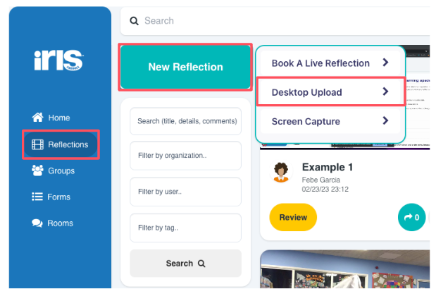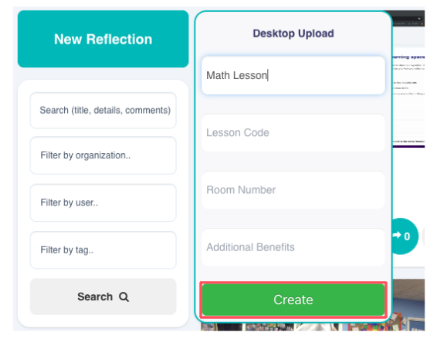 ---
To upload your recording you can either:
1) Click Upload Video and then browse your computer for the required video file and click Open.

2) Drag the file into the box.
Your video will now begin the upload process. Do not exit this screen until the video has finished uploading.

Your video will be ready to review after a short delay whilst it processes on the system.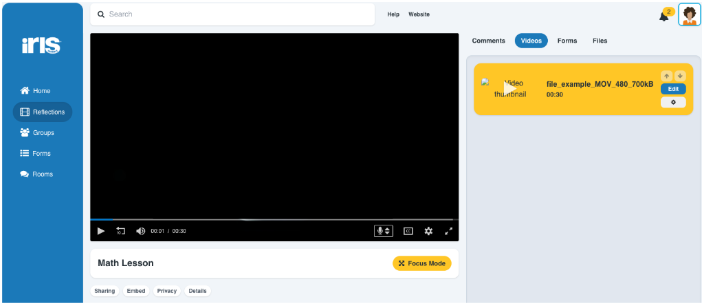 Using HandBrake
---
If you encounter any issues with uploading video files, it might be necessary to transcode the file beforehand to change the file type or reduce the file size.
Make sure the file is on your PC/laptop

Open Handbrake (download from https://handbrake.fr) and drop in the video file

Set 'Presets' to 'Very Fast 720p 30fps'

Summary tab (Already open)

Set 'Format' to 'MP4'

Dimensions tab (next tab along)

Make sure 'Width' and 'Height' to '1280' and '720' respectively.

Down the bottom, select destination (Browse) for converted file (we recommend using the desktop for ease)

Press 'Start Encode' at the top (Green play button)
You may need to install the Microsoft .NET framework in order to install Handbrake.
If so, you can download it here: https://dotnet.microsoft.com/en-us/download/dotnet/thank-you/runtime-desktop-6.0.3-windows-x64-installer