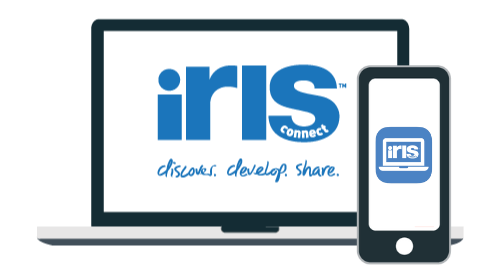 Our web platform gives you a personalised space to reflect on, analyse and share practice.
The platform opens the door to a growing wealth of resources and collaborative opportunities with the wider educating community.



How can I use the IRIS Connect platform?
Review your Reflections Library

Review private video Reflections and those that have been shared with you.

Give and receive contextualised feedback

Add time-stamped comments to give feedback tagged to specific moments in the video.

Clip recordings for focused reflection

Use the editing tool to clip a recording so that you can share just a part of a recording or create a show-reel of snippets.

Share your practice with trusted colleagues

Share Reflections with peers, coaches and groups, both from within your own organisation or to another organisation/s.

Invite colleagues to observe your learning environment live

Schedule live reflections and invite your coach (or mentee) to a live coaching session from anywhere in the world.

Set a privacy mode to your videos

Use an anonymisation filter to share Reflections with obscured footage, protecting individual identities.

Build on feedback with deeper analysis using forms

Create and share forms to add to Reflections giving the opportunity for greater insight and focused feedback.

Access theory and shared video libraries

Join Groups to access expertise any time, anywhere.

With dedicated pathways for specific roles, and a collaborative Practice Exchange, there's something for everyone in the Group Store.

Create your own communities of practice

Build your own interactive shared spaces where you can share practice, add resources, set assignments, add discussions and much, much more. Simply create your own group and let your community grow and blossom.

There are endless possibilities as you curate, create and collaborate from your account on the IRIS Connect platform...
Download the IRIS Connect Platform App
Do all this on the go, with the mobile Platform App, available for iOS and Android devices.
Click here from your mobile device or use the QR code shown or search your app store.
Find out more about using the Platform App here. Please note this is a separate app from the IRIS Connect Record App.