NOTE! Android Only
At present this feature is only supported by Android devices. We are working on supporting iOS devices in the near future
Contents
Remote control feature
If you are using one of our IRIS Connect Bluetooth microphones then you will be able to do the following via clicking the button on the microphone:
Start the recording
Add a notable moment (timestamped comment)
Stop the recording
Check your microphone
You will need to use one of the IRIS Connect Bluetooth microphones that look like this:

Check the software loads and that the mic is paired
To confirm the microphone is paired correctly (the microphone icon is green)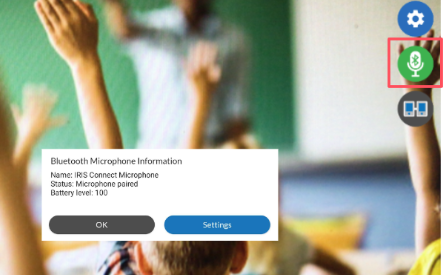 and this pop-up will show when you first open the app/pair the microphone

If you dont see the pop-up or if it shows as Connected: false then the controls wont work. Try restarting the microphone and the app. Please contact the support team if you need assistance
For a full guide to pairing your microphone click here
Using the controls
Start recording
To start recording from your microphone, make sure you are logged into the app, and the microphone is turned on and paired (it will be showing a single blue flash every 5 seconds) then double-click the button on the microphone to start recording.
Add a notable moment/time-stamped comment
When recording if you want to add a timestamp to your timeline, click the button once. You will see a pop-up on the device the microphone is paired to.

On your recording, you will see a comments added to the timeline. They will be linked to the time in the recording when you clicked the button.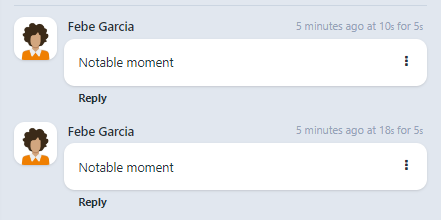 You can edit these notable moments just like any standard comment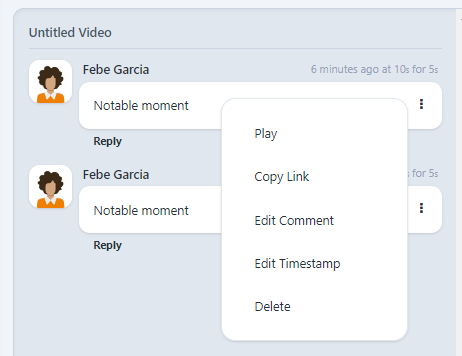 For more information about commenting click here.
Stop recording
To stop recording, double-click the microphone button. You will then see the save/delete menu.