Adding Users
---
To add users, click on your avatar on the top right, then Admin Settings. Then, click on the Users tab on the left side of the admin panel. This will show you a list of current users, and the number of available licences.
You can add as many users as you have available user licences. Users can be deactivated to free up licences.

To add a user click Create User and enter the details of the user account you wish to create.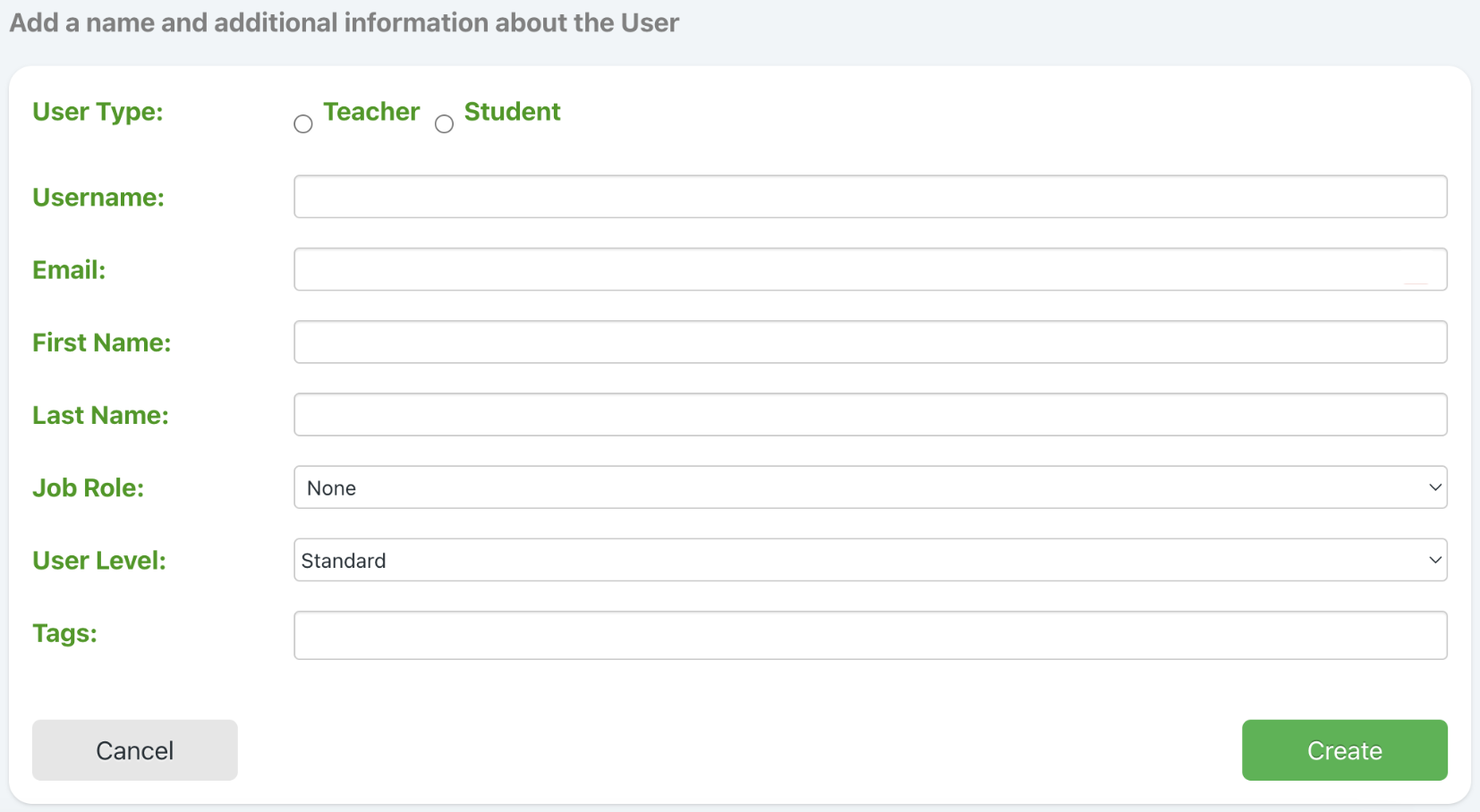 NOTE: Usernames and Email Addresses
The username and email address must be unique across our system and cannot contain apostrophes. We recommend using the email address as the username as it's unique and memorable for the user.
User Type is either Teacher or Student. More information on student accounts can be found here.
Job Role can be populated if you wish to add this.
User Level is either Standard or Administrator.
Tags can be used to categorise users. More information can be found here.
NOTE: The below is from the Organisation Administrator agreement that covers the creation of additional administrator accounts
4.2.1 If you use your Organisation Administrator Account to create additional Organisation Administrator Accounts then you confirm that;
4.2.1.1 you understand that the User for that account will be required to accept these same terms;
4.2.1.2 that any additional Organisation Administrator Accounts will only be created for individuals that you warrant are entitled to and in a position to sign up to such terms;
4.2.1.3 you are responsible for the actions of any User using an Organisation Administrator Account that you have issued them, any breach of the Organisation EULA by that User will be deemed as a breach of the Organisation EULA by yourself;
4.2.1.4 you will only create User accounts for employees, students or trainees at your organisation.
More information on the Organisation Administrator level account can be found here and the administrator agreement, here.
Common Issues
---
1) If you are copying and pasting email addresses make sure there is no trailing white spaces.
2) If the username is already taken consider using their email address for the username.
3) If the email address is already taken get in contact with our support team who can advise on the best course of action. Most likely the user already has an account in another organisation.
Validation Email
---
A validation email will then be sent to the email address you have entered. Once the user has followed the link in the email, set the password for their account and signed into the web platform for the first time, their account will become active and the red Awaiting Validation message will disappear from next to their name.
Account not yet validated:

Validated/Activated account with tags:

Example of the activation email: