INFO: This guide is for Organisation Administrators
This guide covers:
Sorting Users
---
Within the User Management Page, users are ordered by the time they were last active by default, however there are other variations that you might want to sort and filter your users by. The buttons are to help with filtering the search. Type, Status, Tags and Sort can be used to refine your search results.

Sort changes the sorting combination between last active, A-Z or Z-A. Status will filter Activated, Deactivated, Validated and Unvalidated users, and Type will filter by Admin type.


TIP: Summary
Type and Status work like Tags, as in you can have multiple selections at the same time. You will need to remove the tag if you no longer wish your results filtered by the conditions you had previously set. The current applied search conditions are shown in the search bar.
Resend Validation
---
Once a user account has been created, they will then be sent an email and need to click a validation link before their account is valid.
If you need to send them another email, this can be done by clicking the Options button to the right of their user account, and then click resend validation. The user will then receive another email with a link to validate their account.

If they do not receive the email then their email address may be incorrect, or your email filtering may be blocking the emails.

Password Reset
---
If someone has forgotten their password then you can prompt them to reset this by clicking the options button to the right of the user and select reset password. They will then receive an email with a link to do so.

Users can send the email themselves by selecting the reset password option on the log in screen.

If they are don't receive the email then their email address may be incorrect, or your email filtering may be blocking our emails.
Deactivating/Activating Users
---
To deactivate a user, click the Options button to the far right of a users name. Then click Deactivate.

The user will then go to the list of Deactivated users and they will no longer be able to access their account. All the user's reflections, forms, comments that have been shared will no longer be accessible to other users until the account is reactivated.

Deactivated users can be reactivated the same way, so long as you have a sufficient amount of licences available.
If you reach your licence limit and wish to extend your limit, please contact IRIS Connect support.
Deleting Users
---
To delete a user click on the user you would like to delete. You will then see a Delete User button below the user's avatar.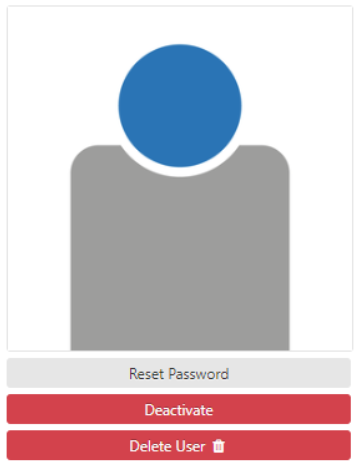 After clicking Delete User, you will be asked to type the name of the user as a precaution to avoid accidentally deleting an account.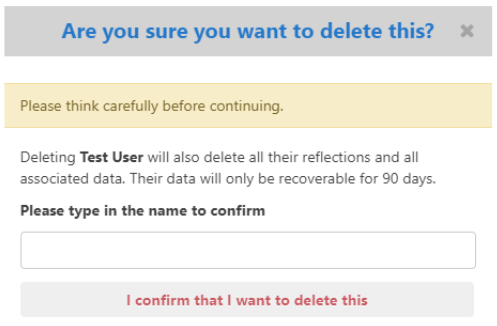 In some cases, you may find you're not able to delete the user. Check to see if there are any spaces before/after the first/last name. After removing them, you will be able to delete the user

WARNING! Accounts that are deleted can not be restored after a maximum of 90 days
If you would like information on how to restore users that may have been deleted accidentally, please follow this link to the Recycle Bin section.
Bulk Actions
---
By using the multiple select tick boxes you are able to perform the following actions to multiple users at the same time
- Reset Password
- Resend Validation
- Active
- Deactivate
- Delete