This feature enables you to embed a reflection in another platform whilst retaining the security and permissioning provided by the IRIS Connect platform.

This article covers
Getting The Embed Code
---
Go to your reflections library using the Reflections tab on the top navigation bar.

Click on Review under the reflection you want to embed and this will take you to its own page.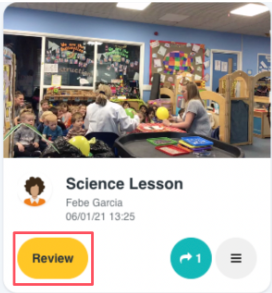 ---
Click on the Embed tab underneath the reflection.

---
Embedding is automatically Disabled. Enable it by via the dropdown.

NOTE: Make sure to click 'Update Embed Mode' for this change to take effect.

If the reflection is a Single View reflection, make sure that Optimise for single video is selected. If its a Dual View reflection, make sure that Optimise for dual video is selected. This ensures that your video is not stretched or squashed by altering the aspect ratio in the code automatically.

You can change the size of the video box that will be displayed in your destination by changing the width in the box. (The height will change automatically based on single/dual video selection)
You can now Copy the embed code to be pasted into your site. Just click the Copy button.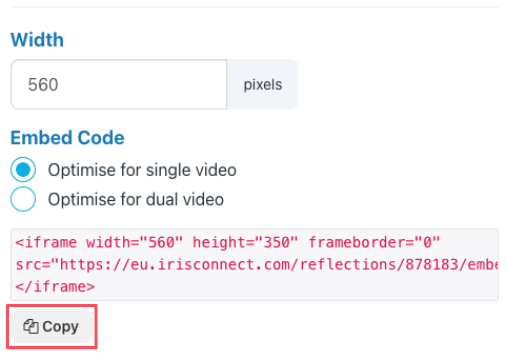 The Embedded Video
---
When you have pasted the code into your website or VLE or similar, it will present with a Login box.

The video will only be accessible to an IRIS Connect user if they own the reflection or it has been shared to their IRIS Connect account.
To review the video the user will need to enter their IRIS Connect credentials.
---
If the appropriate credentials have been used, the video will appear with a play button in the centre, and also the option underneath to 'Open in IRIS Connect'.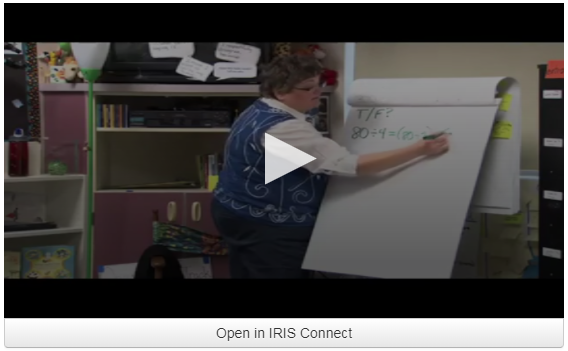 Errors
---
Do not have permission
If the reflection has not been shared with you, an error saying 'You do not have permission to view this reflection' will show.

You can only view embedded reflections that you own or have been shared with you.
---
Reflection embed not enabled
If the individual reflection has not had embedding enabled, it will show an error saying 'Embed not enabled'.

In this instance you can view the reflection on the IRIS Connect platform, provided you own it, or have it shared with you. Alternatively, you can ask the owner of the video to enable embedding.
---
Organisation embed not enabled
If you cannot see the Embedding tab option in the review reflection window, then the embedding feature has not been enabled at an organisational level.

You will need to ask an administrator to enable Reflection embedding under the 'Admin Settings'